---
HOME | WANTED | REPAIR SERVICES | GALLERY| INSTRUMENT SALES | EMAIL
Welcome to the main workrooms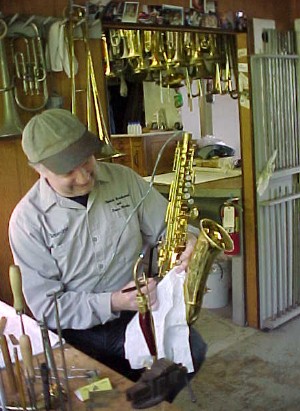 Not all the jobs we take on are complete restorations, thank goodness! In this image, Steve puts the final touches to a saxophone repair.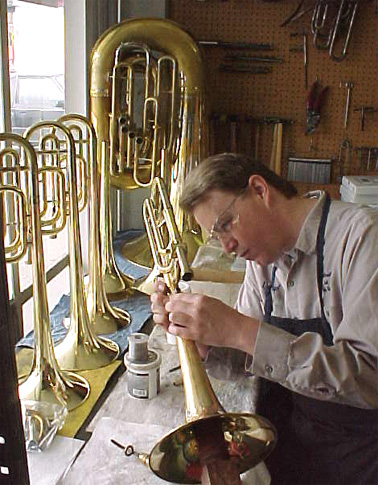 After completing the dent work and preliminary polishing, Dan solders together the bell assembly on a Bach 42 trombone that he is overhauling along with the three others in the background.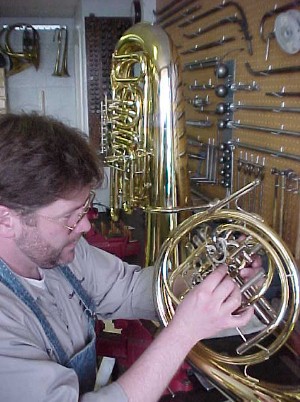 Fritz, on his fifth french horn rotor refit that week, completes his inspection of the cylinder casings before beginning final assembly. Oberloh Woodwind and Brass Works is well known for our mastery of repair and restoration of rotary valve mechanisms.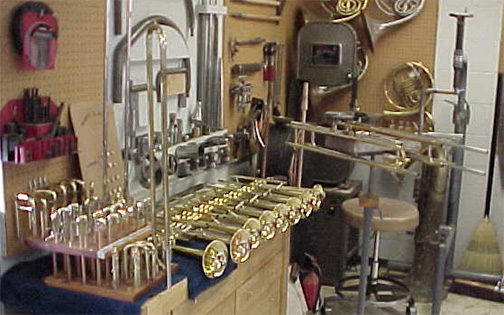 Here is an area showing one week's work. You can see several trumpets in the final stages of overahul and trombone slides being straightened. Also, you can see our dent machine and tooling, band saw and more horns in line!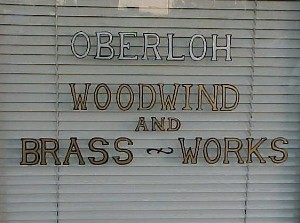 That concludes our tour of Oberloh Woodwind and Brass Works! We hoped that you have enjoyed the tour. If you would like to see more, please visit the current and completed projects pages. If you have any questions regarding repair or restorations, or just curious about that old horn that's sitting in the attic, feel free to call or email us at any time!
---
Copyright 1997-2013 Oberloh Woodwind and Brass Works