Mirafone tuba
Major repair without performing a complete restoration.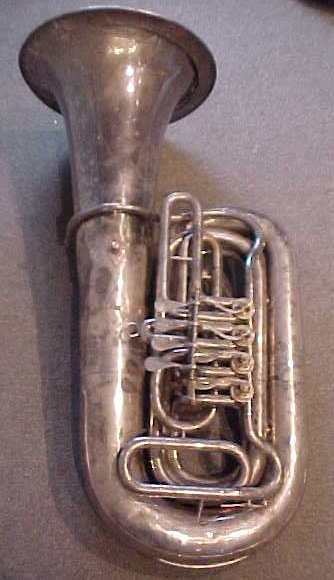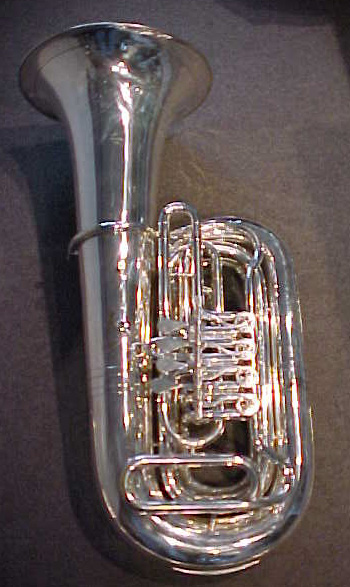 This Mirafone 186-4U was used in a community college about 35 years ago. It was badly damaged and had been in storage for more then twenty years. Its new owner desperately wanted to have it fixed up but could not afford the cost of a full restoration. Fortunately this kind of project is something we are all too familiar with. The plating was in good order and the parts were all in good, salvageable condition. The following pictures show the condition of the instrument before and after the needed repair work was completed.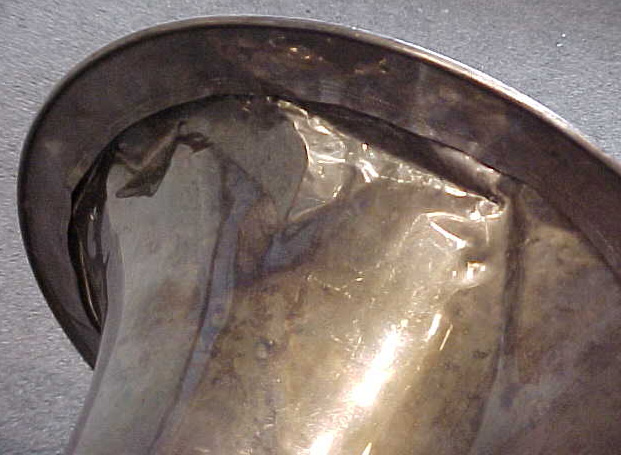 The bell prior to repair.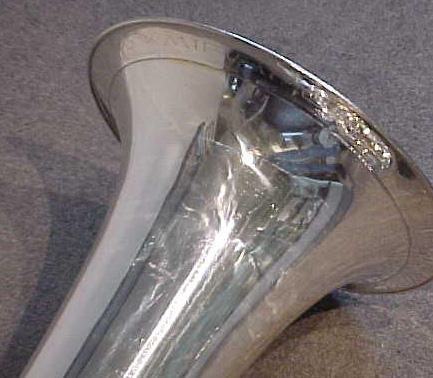 The bell and wreath, repair completed.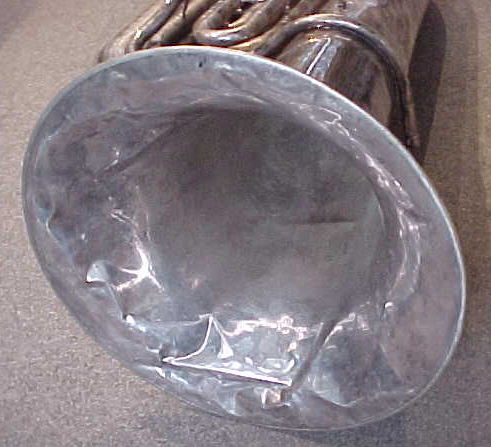 The inside of the bell prior to repair.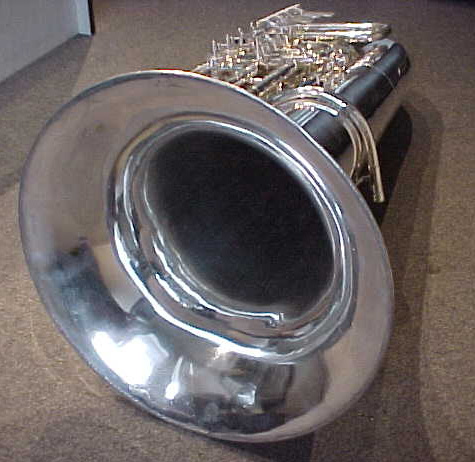 The same beatup bell after it has been properly corrected.
Like mentioned on page two of the tuba overhaul section of our web site, Mirafone bells are at times difficult to correct simply by the nature of their construction. This is the case with all bells that are fitted this way. Seen above is the bell before and after. Even though the bell wreath was badly damaged and also having its inside edge solder joint broken and pulled away from the bell flair, we were still able to correct the damage while at the same time being careful enough to avoiding a heavy handed approach and not to scratch up or stain the silver plate. When remounting the wreath, soldering it properly, while not making a big mess of it, helps save time and money. In the end this will deliver an attractive and nice sounding horn that will last many years as long as it is given the proper care and respect it deserves.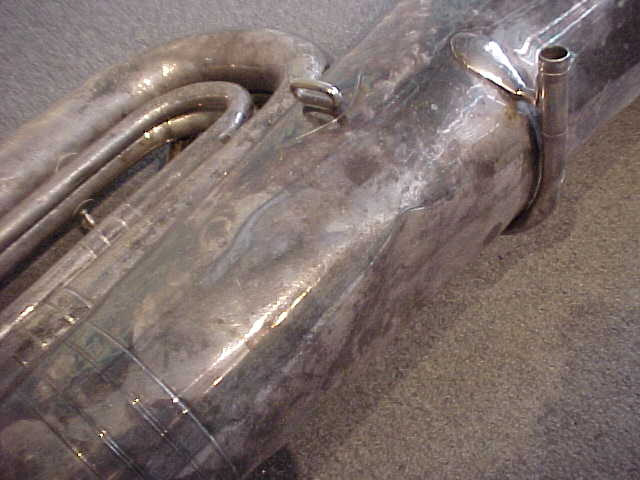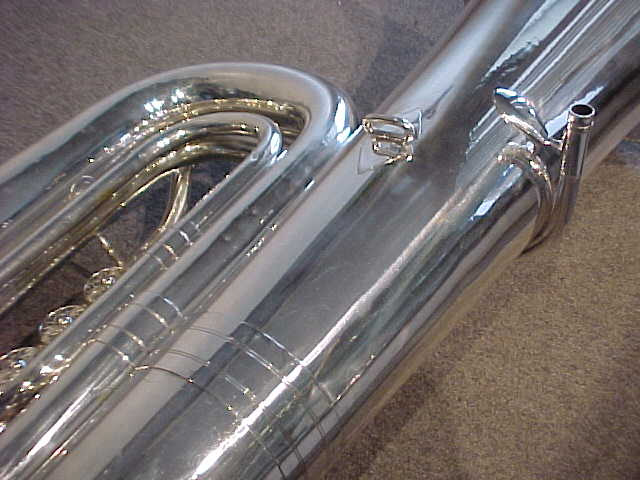 This project is a good example of what can be done with instruments such as tubas and euphoniums that are badly damaged. It is a good option when an individual or a music department in a school is looking to get there background brass repaired. It must be understood though that this is still a lot of work. With the rise in cost of decent quality band instruments and cuts in the budgets of band programs, maintenance and repair of equipment has reached a point where programs are in distress. I feel many band directors and administrators are making the mistake of retiring instruments and replacing them with bright, shiny, junk that will only last a few years and will be much more difficult to maintain over the long haul.
To any one who will listen, keep your good horns even if they are beat up very badly. Save your money and get them properly repaired. I know itıs not a cheap process to have performed. But at roughly 1/3 the cost in time and money, it is easy to see why this is an approach that should be seriously considered before throwing out your good, older instruments only to replace them with cheaper, lower quality trash that will probably not last anywhere near as long as what you had to begin with.
Thanks to our dear friend Philosopher Smithers for editing this page.
If you have any questions regarding this kind of work, please feel free to call, 206.241.5767 or e-mail.