The Resurrection of Tony's Tuba.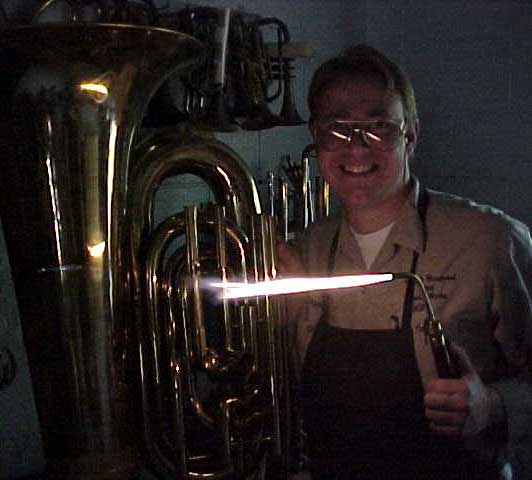 Tony's tuba goes under the torch!
Tony purchased this nice Holton 6/4 early this year. He was patient and waited for me to find enough time to make the much needed repairs that would bring his horn back to proper playing condition and at the same time make it a little more attractive.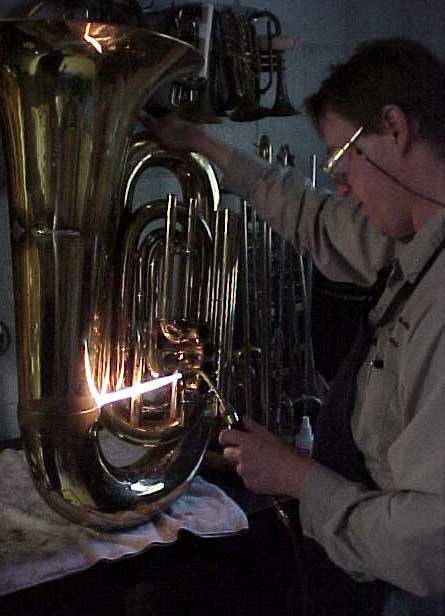 As always, the mouthpipe is removed (unsoldered) after the valves and slides have been dispatched to the chem-room for a good cleaning. We then simply undo the solder joints, working our way into the valve section.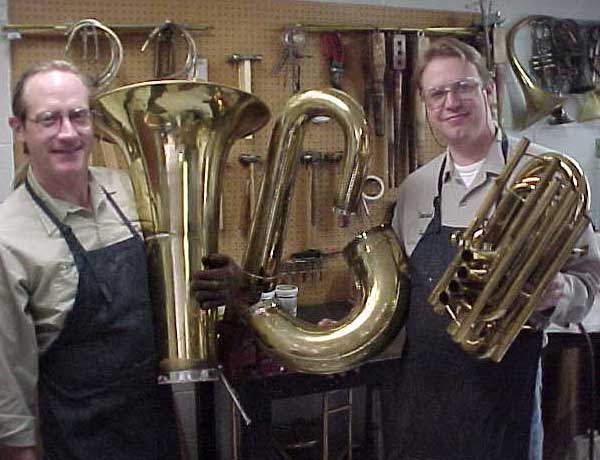 Taking a brief pause from the "fire wrench" Daniel Oberloh and apprentice Dave Cole show off their handywork.
We got it apart and wound up with a lot of old filler solder all over the bench and on the floor. We tried to avoid that mess when we soldered it back together by seeing that the fit of the joints was neater than last time.
Seems like a lot of work? It is, and we were only just getting started.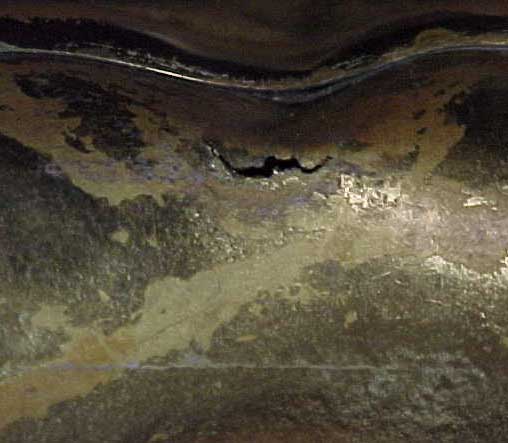 Lots of problems that have shown up are from improper repair work performed in a careless manner.
You can't just keep pushing the dents up, now and then you need to push the metal back in. This is not what I had in mind. Not to worry, it's all in a day's work.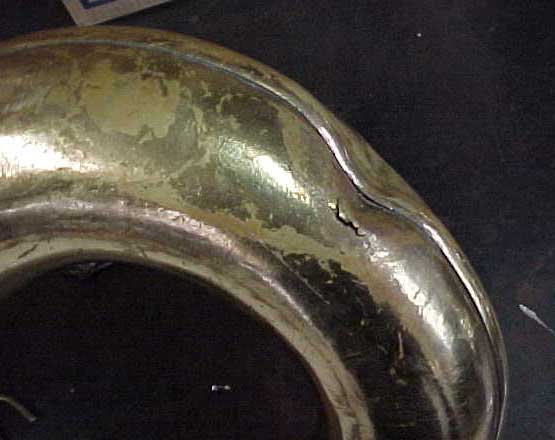 Big bows are difficult to repair if you dont have the proper tools for the job.
Tony's tuba had lots of problems and they required the lion's share of our shops metal working equipment to set them right.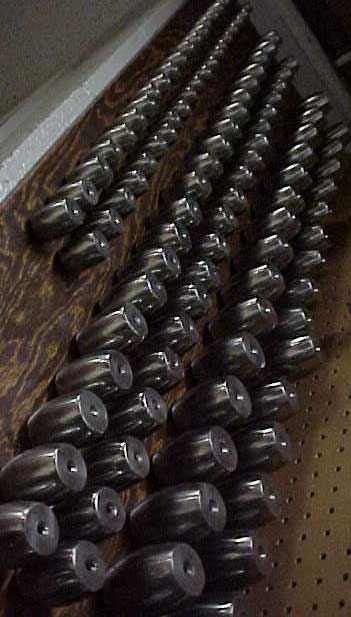 Lots of big and heavy dent barrels!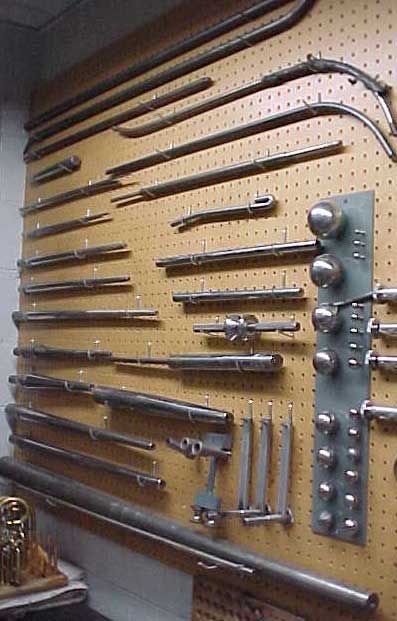 Lots of hammers, vices, burnishers, tapered mandrels, rods and dent balls.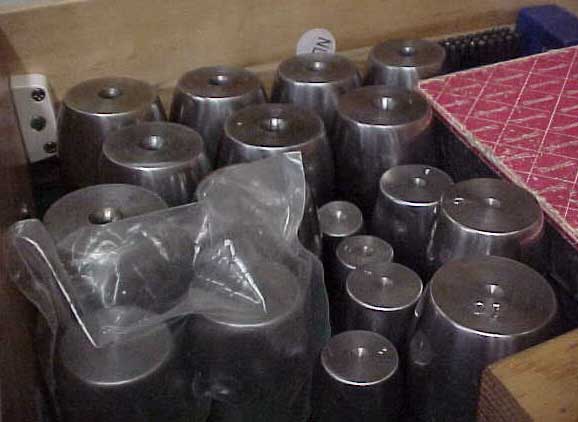 Did we mention the dent barrels? I fact we have close to 400 of them in the shop just for removing dents in tapered long bows from bassoon bocals to the largest of top branches on tubas.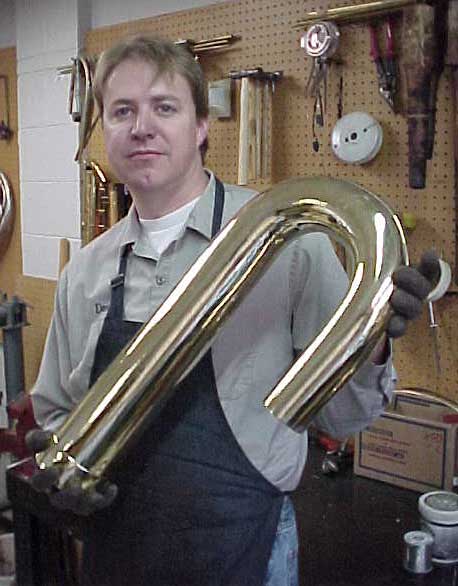 Tony's top bow was a bit stubborn but we came to an understanding. The dent was raised and the crack was ground out and silver brazed using a very hot jeweler's torch. A new guard wire was then installed following the necessary polishing. The long parts were smoothed out using a Ferree's Z60 dent machine along with the proper mandrels, shoes and rollers.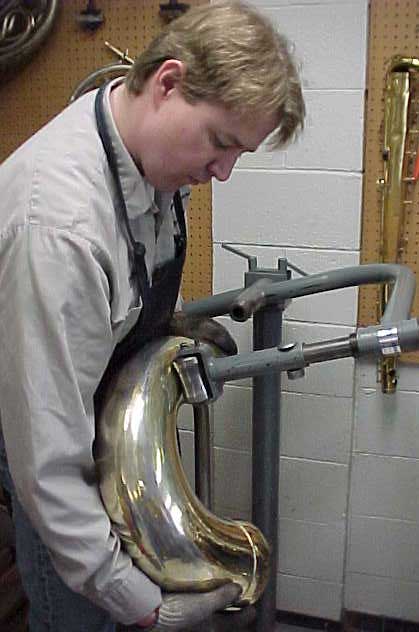 The bottom bow guard molding and wire were removed because of loose solder joints and lots of dents that just had to go. The big dents were roughed out using a large curved dent rod with a large steel ball on the end. This paves the way to where the metal is smoothed, once again, with the dent machine. During this time the bell was also smoothed and all major dents and creases were pressed out.
Please note: This looks easy but that is far from reality. This tool takes a lot of time to master and calls for serious concentration to get good quality results. I highly recommend that any one interested in large brass repair invest the time and money. It is a great tool once you get the hang of it.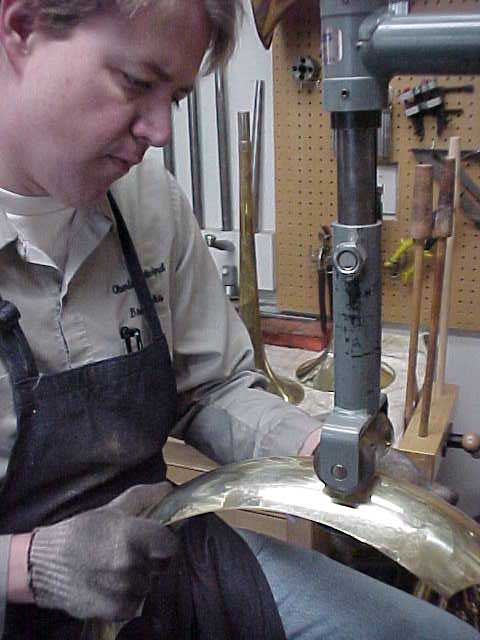 Having completed the bottom bow, the bow cap or guard molding is hammered and then reshaped, once again, using the you know what. It is then polished and cleaned so it can be remounted onto the bow. A new guard wire was then installed.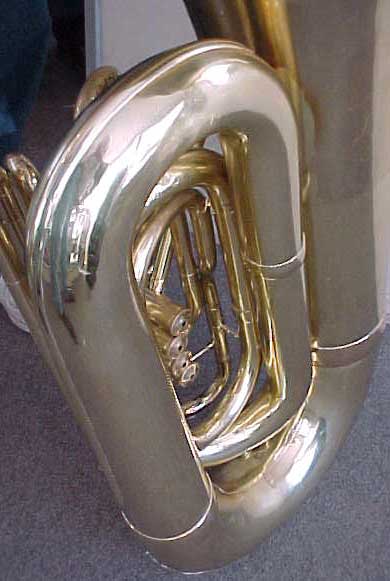 The instrument was stripped of old lacquer in order to give it a uniform color when the new lacquer coating was applied. The stripping also allowed us to achieve cleaner surfaces allowing for much better solder work than had been previously performed. Many cracks were discovered and addressed along with a number of damaged branches and solder joints in the valve section.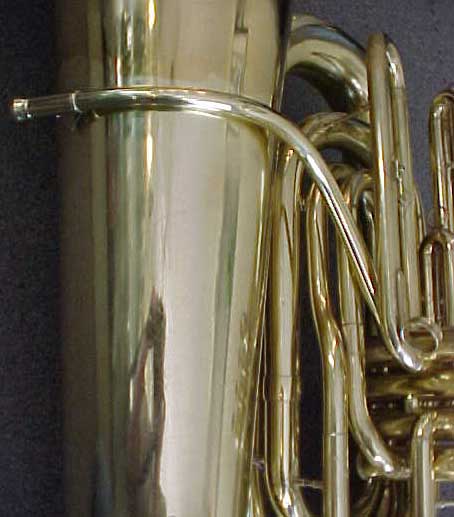 The mouth pipe had been poorly repaired so it was tended to with great care and reshaped to fit the instrument in the best manner possible. Several cracks were discovered in the back that had been covered with soft solder. We dealt with the problem by grinding out the cracks and silver brazed the seams. .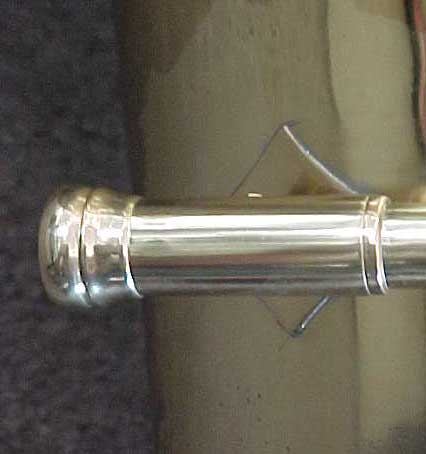 Several parts were remade to match the original look of the horn including the receiver and the bell brace.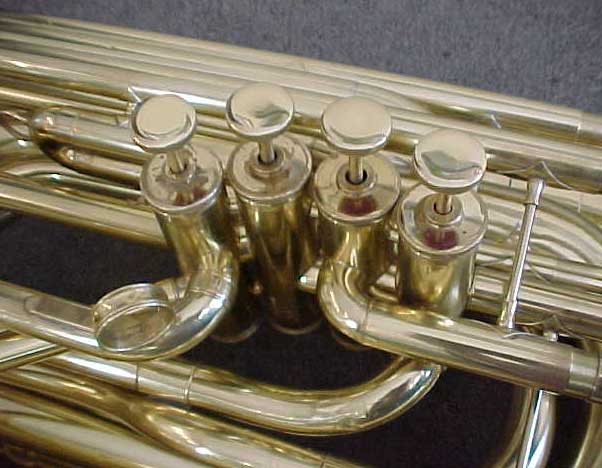 New large size buttons and stems were made to add to the feel of the horn and correct some past alterations that caused serious port alignment problems. Water key assemblies and a few tuning slides also had seen better days so we got them ship-shape before we called it a done deal.

Though these are great instruments in their own right and a testament to the skill of their designer, like all tubas, this model has imperfections. I feel, for its day, it was as good a horn as you could get, however it suffered from a lack of quality in the way it was originally produced and this had an impact on how well it performed. The poor quality of past repair work made matters worse. With the majority of its structural issues addressed, this tuba is something special. It still has minor quirks but no more than any other tuba. The neat thing about this instrument is that it has the presence that is needed when one wants to be big in sound without being loud in volume.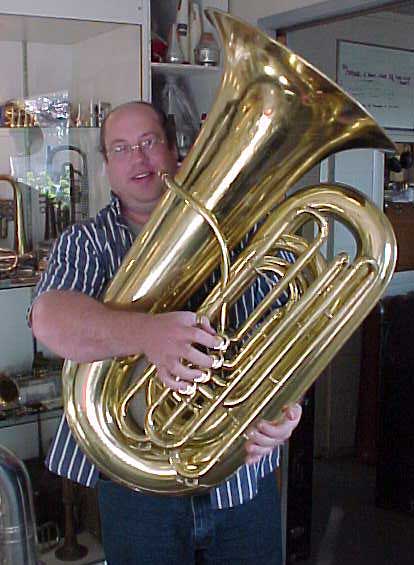 The Proud Papa
Tony and his tuba
We did not perform a full restoration on the horn as time and resources were not immediately available for Tony or myself. We hope to address the horn in full, along with silver plating maybe in a year or so. That will give Tony time to enjoy his wonderful tuba and me enough time to allow my back to recover.


Daniel C. Oberloh
Please visit my shop's website:
We have lots of pictures of past projects and reclamations.