Trumpet mouthpieces
Trumpet | Cornet | Trombone | Euphonium | Tuba | EMAIL
When ordering or asking questions about any of the following mouthpieces, please refer to the ID code listed to the right of the price as we have several redundancies in our inventory and want to make sure that we get the right mouthpiece for you.
We will do our best to keep this list updated, however we may fall behind from time to time, please feel free to e-mail with any questions.
---
Condition Rating Reference
1 New Condition - no scratches or pitting, plating is 100%, no alterations; also includes reconditioned mouthpieces

2 Almost New Condition - plating on interior and exterior is in excellent condition, maybe some minor wear on the shank, very minor nicks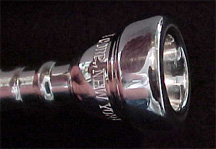 3 Good Condition - minor plating wear on exterior, minor nicks in rim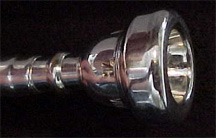 4 "Chuck Would Play It" Condition - some plating wear, nicks and pits in rim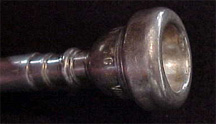 5 "Fishing weight" Ugly Condition - plating is worn, plenty of nicks and pits, It'll keep your bait on the bottom.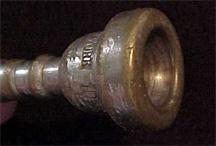 ---
Trumpet

Make
Model
Condition
Price
ID code
Bach
1NEW stock
1+ in box
38.00IN Stock
OB1-NS
Bach
1BNEW stock
1+ in box
38.00IN Stock
OB1B-NS
Bach
1CNEW stock
1+ in box
42.00IN Stock
OB1C-NS
Bach
1DNEW stock
1+ in box
42.00IN Stock
OB1D-NS
Bach
1ENEW stock
1+ in box
42.00IN Stock
OB1E-NS
Bach
1XNEW stock
1+ in box
42.00IN Stock
OB1X-NS
Bach
1.5CNEW stock
1+ in box
38.00IN Stock
OB1.5C-NS
Bach
1.5BNEW stock
1+ in box
42.00IN Stock
OB1.5C-NS
Bach
1.25CNEW stock
1+ in box
42.00IN Stock
OB1.25C-NS
Bach
2NEW stock
1+ in box
42.00IN Stock
OB2-NS
Bach
2.5CNEW stock
1+ in box
42.00IN Stock
OB2.5C-NS
Bach
3BNEW stock
1+ in box
42.00IN Stock
OB3B-NS
Bach
3CNEW stock
1+ in box
42.00IN Stock
OB3C-NS
Bach
3DNEW stock
1+ in box
42.00IN Stock
OB3D-NS
Bach
3ENEW stock
1+ in box
42.00IN Stock
OB3E-NS
Bach
5A small letter typeNEW stock
1+ in box
45.00IN Stock
OB5A-NS
Bach
5B small letter typeNEW stock
1+ in box
45.00IN Stock
OB5B-NS
Bach
5C small letter typeNEW stock
1+ in box
42.00IN Stock
OB5C-NS
Bach
5MV small letter typeNEW stock
1+ in box
45.00IN Stock
OB5MV-NS
Bach
9 NEW stock
1+ in box
42.00IN Stock
OB9-NS
Selmer
B3
2+ - Made in France
42.00
SB3-1
Stork
5C
1, Custom, Vacchiano
30.00
OSV5-1
Warburton
4 SV screw-cup / 4 shank
1- 100% plating
45.00SOLD
OZ66C
Denis Wick
5E
2 - Gold plate, Made in London
20.00
DW5E-1
Denis Wick
5E
2 Gold plate, Made in London
25.00 SOLD!!
DW5E-2
Yamaha
11B4
2 silver plate, Made in Japan
15.00
Y11B4-1
Yamaha
11B4-GP
2 Gold plated rim, Made in Japan
20.00SOLD!
Y11B4-GP-1
Zottola
64B
2 with original container
45.00SOLD
OZ64B
Zottola
66C
2 plating wear on shank
38.00SOLD
OZ66C
Trumpet | Cornet | Trombone | Euphonium | Tuba | EMAIL
HOME | SALES | GALLERY | EMAIL
email: sales@oberloh.com